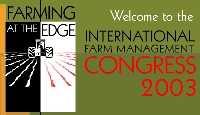 Enterprising Rural Families (ERFTM) is an international course for the rural family in business. ERFTM teaches a process of finding success, resilience and satisfaction for rural families engaged in enterprises; including agriculture. Instructors from the United States, Canada and Australia have teamed together to offer this course that focuses on the three main components of a family business: individuals, the family unit and the business enterprise. This course also allows families in business to increase their awareness of cultural differences and similarities and improve their understanding of global issues. The course consists of written presentations, online chat sessions, threaded discussions, readings, videos, case studies and individual projects. Using these mechanisms, the online interaction provides rural families with both the tools and skills to resolve immediate family business issues and build a profitable business for the future.
Click here to read the entire paper presented at the International Farm Management Congress held in Perth, August 2003.
For more information
contact us at: information@eRuralFamilies.org
Disclaimer: The information provided in the Enterprising Rural familiesTM (ERF) course and on this website is offered without warranty. Users assume all risks associated with using the information provided in the ERF course and on this site. All information contained in the ERF course and on this site is for educational and noncommercial use only. Materials may not be copied for profit use. The authors of this website and the ERF course and their corresponding institutions assume no liability or responsibility for any errors or any omissions in content. Users agree to indemnify and hold the authors of the ERF course and this website, their corresponding institutions, employees, affiliates, and all service and educational providers harmless from liability, loss, claim, or expenses related to use of the ERF course and this website. Links from this website are not endorsed, maintained, or warranted by the University of Wyoming, University of Wyoming Cooperative Extension Service, eCollege, University of Wyoming School of Outreach, Online UW, Canadian Farm Business Management Council, or Lifeline Australia, and users follow them at their own risk. Future economic conditions and management decisions will affect the success or lack of success of services and businesses.